Present and past faculty: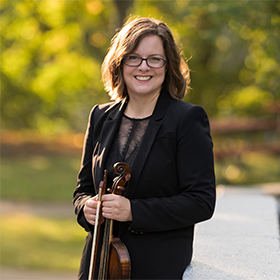 Phoebe Gelzer-Govatos
Instrumental Music
Phoebe Gelzer-Govatos holds Bachelor and Master of Music degrees in Violin Performance from Stetson University in DeLand, Florida, and Austin Peay State University in Clarksville, Tennessee, respectively. Her principal teachers include Igor Markstein, Alvaro Gomez, and Routa Kroumovitch.
She has a particular love of early music, and has received additional instruction in historical performance through festivals and workshops such as the Tafelmusik Baroque Summer Institute, Oberlin College's Baroque Performance Institute, the International Baroque Institute at Longy, and the Berwick Academy of the Oregon Bach Festival, including studies with Marilyn McDonald, Julie Andrijeski, and Marc Destrubé.
Read More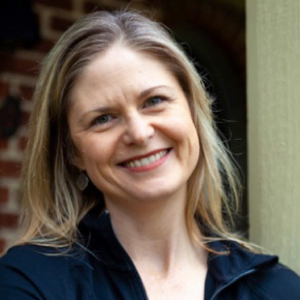 Emily Olson
Instrumental Music
Emily Olson's professional music career and personal artistic pursuits have revolved around mindful expression: performing, creating, teaching, advocating, coaching, fostering, and exploring.
Emily has enjoyed decades of experience as a classical flutist, performing regularly with the Ann Arbor, Flint, and Saginaw Bay Symphony Orchestras, the Michigan Sinfonietta, and in musical theatre productions for the Ann Arbor Civic Theatre and Encore Musical Theatre Company. Summer music performances have brought Emily to Michigan's Upper Peninsula, where she has appeared with the Pine Mountain Music Festival and Strings on the Bay chamber music series. Read More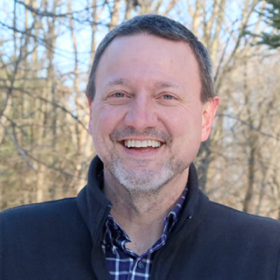 John Goodell
Instrumental Music
John graduated from Oberlin College and Conservatory with degrees in economics and piano performance, and he completed his Master of Music degree in orchestral conducting at the University of Michigan. John currently serves as Director of Orchestras at Greenhills School in Ann Arbor, a position he has held since 2012. In addition to his work as Founder & Creative Lead at Macon Creek, he has served as Director of Music & Technology at St. Clare's Episcopal Church since 2007. John has served as Music Director and Conductor of The Life Sciences Orchestra at the University of Michigan and Conductor of the Ann Arbor Youth Orchestra.
Read More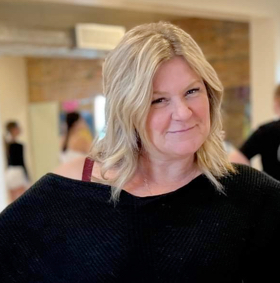 Deena Bryan
Theatre & Dance
Deena Bryan was born and raised in Tecumseh, Michigan and began her dance training at the age of 3 at Tecumseh Dance Workshop. She was one of the first Caravan Kids to tour with Hoctors Dance Caravan in 1993, where she met and assisted hip hop great Devora Cooper Howard. She received a dance scholarship to Oakland University where she studied all forms of dance including kinesiology, choreography and dance history.
Read More
Katherine Banks McBride
Theatre & Dance
Katherine Banks McBride is a Midwest based actor and educator. Her work as an actor includes theatre, film, commercials, industrials, and voiceovers. Film/TV credits include No Sudden Move (HBO Max, dir. Stephen Soderbergh) and Mindhunter (Netflix, dir. David Fincher). In Chicago, Katherine appeared in the Jeff Award winning Men Should Weep with Griffin Theatre and in the sold-out production of She Kills Monsters at the Steppenwolf Garage.
Read More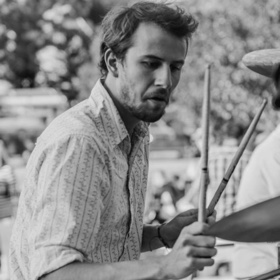 Jonathan Brown
instrumental Music
Jonathan Brown is a drummer, percussionist, educator, composer, chess player, trekkie, and traveler. He is a Grammy nominee (The Ragbirds), founding member of experimental group Willo Collective, and alumnus of Central Michigan University (B.M., B.M.E.) and University of Michigan (M.M.).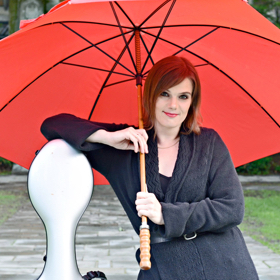 Katri Ervamaa
Instrumental Music
Finnish-born cellist Katri Ervamaa, DMA, is a multifaceted performer with a special love for chamber music, new music and creative improvisation. She has performed and given master classes throughout North America, Europe and Taiwan. Her festival appearances include the Orlando, Kuhmo, Bowdoin, Lyckå and Norrtäjle Chamber Music Festivals (with the Finnish Owla String Quartet) as well as the Denison University Tutti! New Music Festival, Poison City Music Festival, Walla Walla Chamber Music Festival and Finnfest, among others.
Read More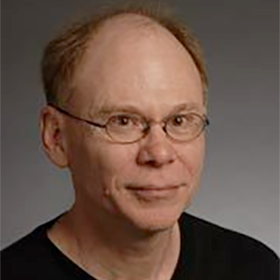 Mark Kirschenmann
Instrumental Music
A composer, performer, and scholar of creative improvisation, Mark's pioneering live electric trumpet performances are internationally acclaimed. He is also the creative force behind the band E3Q (Block M Records), an eclectic jazz-influenced trio with his wife, cellist Katri Ervamaa, and percussionist Michael Gould. Most recently, he released the solo album This Electric Trumpet (Sonikmann Records); recorded with the Nashville-based electronica duo Sub-ID (BFF, 1320 Records); and appeared with pianist Thollem McDonas, bassist Henry Grimes, flutist Nicole Mitchell, cornetist Rob Mazurek's Sao Paulo Underground, saxophonists Oliver Lake and Arthur Blythe, and pianist Iiro Rantala of Trio Töykeät.
Read More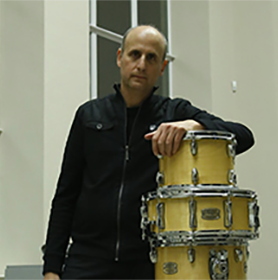 Michael Gould
Instrumental Music
Dr. Gould has received international recognition as a performer and scholar in the field of drumset, contemporary percussion performance, and pedagogy. He has performed and given clinics all over the world. He has released over 100 educational percussion videos through playalongmusic. Gould has also composed and performed music for a wide range of ensembles and venues, from the Münich Opera and Ballet to National Public Radio. He has had unique collaborations with engineers, material scientists, painters, poets, dancers, athletes, and business professionals.
Read More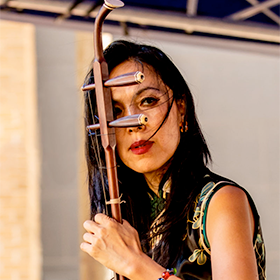 Xiao Dong Hottman-Wei
Instrumental Music
Xiao Dong Wei began studying the Erhu at the age of five and graduated from the prestigious Central Conservatory of Music in Beijing after 10 years of intensive study. Xiao Dong went on to perform with the Chinese Motion Picture Orchestra for four years. After moving to Detroit in 2005, she began playing various gigs with many diverse musicians and musical styles. Xiao Dong continued to expand her classical career, with such notable appearances as guest soloist with the Detroit Symphony Orchestra. She teamed up with pianist Yuki Mack and they continue to expand their repertoire and dazzle audiences. Professor Hottman was awarded the prestigious Kresge Arts Fellowship in 2012.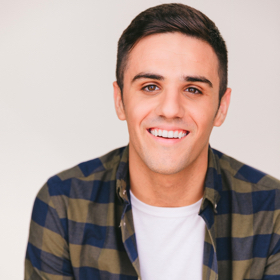 Joey Fontana
Theatre & Dance
Joey is currently based out New York City, and is signed to the Daniel Hoff Talent Agency as an actor, specializing in Musical Theatre Dance. He is originally from Sterling Heights, MI, where he earned his Bachelor of Fine Arts degree in Musical Theatre Performance from Oakland University in Rochester, MI, where he is now a choreographer for the university's musical theatre program, and a guest professor of tap for the school's dance department.
Read More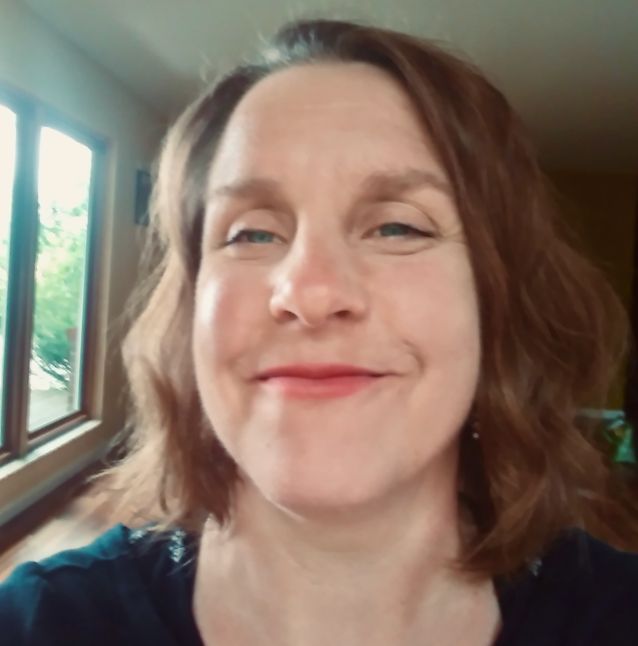 Eli Zemper
Visual Arts
With over 25 years of experience teaching at the elementary through university levels, the founder of Curiouser Clay, Eli Zemper, knows what it takes to make learning fun and engaging. In addition to teaching in the classroom, Eli has also coached a roller derby team, led groups at the University of Michigan ropes course, and created playful activities for Odyssey Work's Library of Experiences. On the creative side, Eli has studied glass-blowing with Annette Baron, ceramics at the University of Michigan and with Nawal Motawi, and experience design with Odyssey Works.
Read More