Meet Teefee!
Baby Teefee had a very hard start and landed in an emergency veterinary hospital when he was quite little. The kind staff cared for him until he was healthy enough to be released to a family dedicated to his continued rehabilitation. Knowing Teefee would be happiest released back into his natural habitat and independent of humans, his caregivers kept an eye out for the moment he was ready to be set free in his new world. Because the nights were already getting cold and natural predators were abundant, a protective tree house was lovingly created and mounted in an old maple tree at Macon Creek. Teefee took to it and can now be spotted jumping from tree to tree across our 215-acres making friends with the abundant wildlife present. We love having Teefee as part of Macon Creek and he loves being here, so make sure to look up in the trees when you visit and say hey!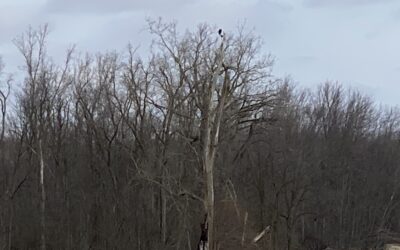 This is a distant shot but exhilarating just the same. Our nesting bald eagles are revered signs of courage, wisdom, strength, and freedom – may we learn from them and their hatching convocation. And- our resident staff photographer will be following up with his...
Be notified when Teefee makes a new friend!